If you've recently become a proud owner of an Austrack Camper, there's no better way to christen
your new travel companion than with a journey to the mesmerising Kangaroo Island. Located off
the mainland of South Australia, Kangaroo Island, or 'KI' as locals affectionately call it, is a haven
for nature enthusiasts, adventure seekers, and those looking to disconnect from the daily hustle.
The Journey Begins
Departing from Cape Jervis, you'll take a ferry ride to Penneshaw – the island's gateway. As you
cruise across the water, let the anticipation build. The serene landscapes, pristine beaches, and native wildlife are about to become your backyard for the duration of your stay. Camping with Austrack Campers on Kangaroo Island
Your Austrack Camper Trailer is built for adventures like these. With off-road capabilities, you can traverse the island's varying terrains with ease. Set up camp near the coastline to drift asleep to the sound of waves or head inland, setting up amidst dense bushland and the symphony of native
birds.
Must-Visit Spots in Kangaroo Island
Seal Bay
Here, you can take a guided tour and walk amongst the sea lions basking on the
beach. Witness these animals in their natural habitat, playing, resting, or simply soaking up the
sun.

Remarkable Rocks
A true testament to nature's artistry, these granite formations have been
sculpted by wind, sea spray, and rain over 500 million years. They're not just "remarkable" by name but also by nature.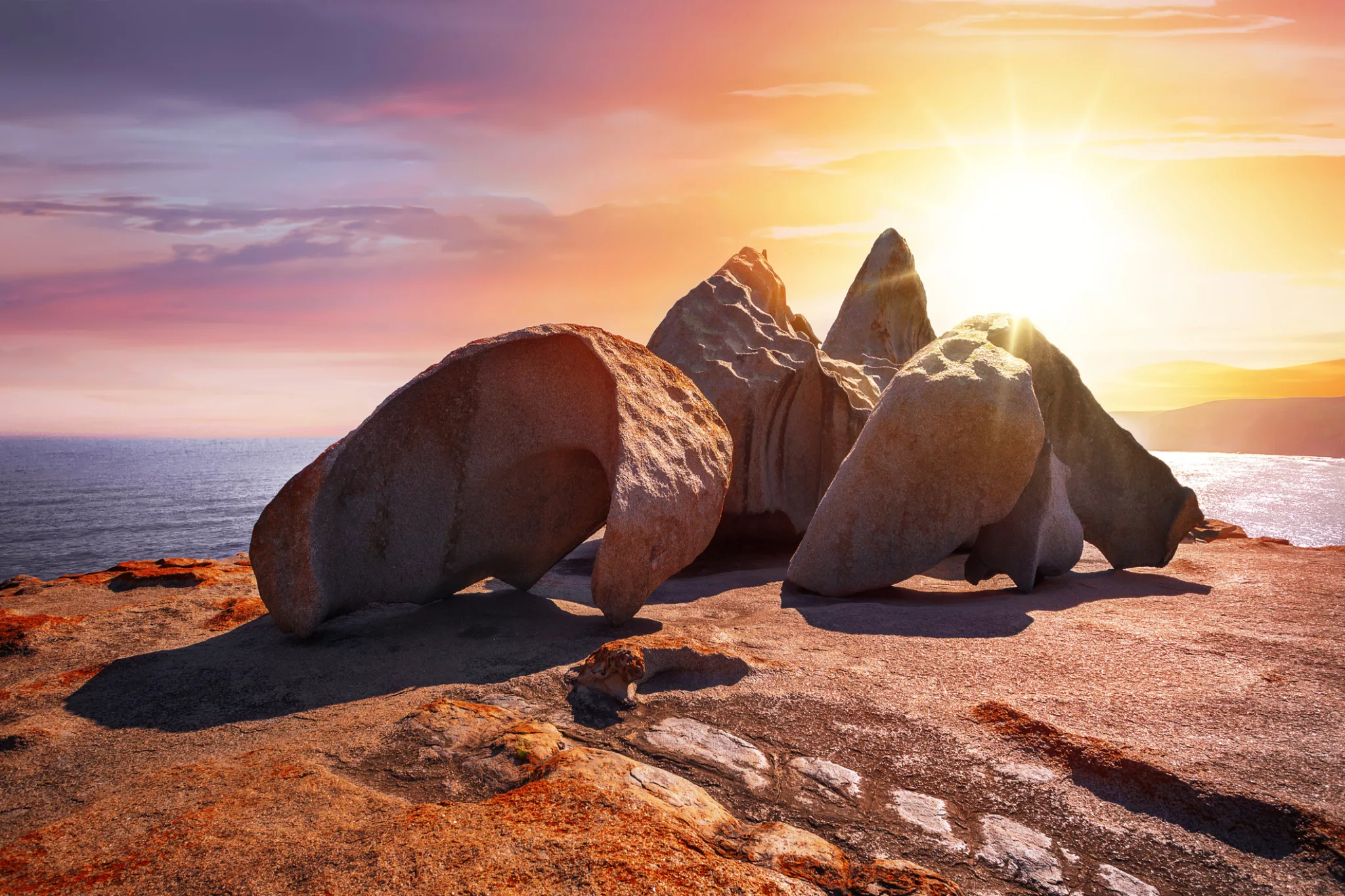 Flinders Chase National Park
Home to diverse wildlife and stunning landscapes, it's a place
where you can see kangaroos, wallabies, and even the elusive platypus in the wild. With trails that range from easy to challenging, every Austrack adventurer will find a path that suits them.

Local Delights
Indulge in the island's fresh produce – from Ligurian honey to creamy cheeses and locally produced wines. KI is as much a treat for the palate as it is for the eyes.
Wrap Up Your Day
After a day of exploration, retreat to the comfort of your Austrack Camper. Share stories around a campfire, gaze at the starlit sky, and relish the unparalleled freedom that comes from having your home on wheels in one of Australia's most enchanting destinations.
Final Thoughts
Kangaroo Island beckons every Austrack Camper owner with its blend of raw natural beauty and the promise of adventure. Whether it's your first visit or you're returning for another dose of its magic, KI never disappoints.
So hitch your camper, set your sights on the horizon, and embark on an Austrack adventure that will stay with you for a lifetime. Kangaroo Island awaits!
Visit Austrack Campers if you are looking for a Camper trailer in Adelaide.