INCLUDED AS STANDARD:
Roof Mounted Airconditioner
2kW Pure Sinewave inverter with 240v auto changeover
Manager30 Complete Battery Management & Charging System
4 x 100Ah Renogy Lithium Batteries
600 Watt Roof Mounted Solar Panels
Wireless Reversing Camera
Diesel Heater
Microwave
Front loading Washing Machine
Internal Seating
MP5 Stereo System
SMART TV with External & Internal Mounts
Inline Gas Plumbing with 2nd outlet (Fully Certified)
Truma Ultrarapid 14L Gas/Electric Hot Water System
Mains Water Connections
McHitch 3.5T Full Off-road Coupling
Independent Shower & Toilet
Luxury Queen Size Inner Pocket Spring Bed
Double-glazed 3-stage Opening Windows
2 x Wireless Mobile Phone Chargers
External Shower & Ensuite Tent
2 x 120L Fresh Water & 80L Grey Water Tanks
2 x Spare Wheels
External Storage & Generator Box
Tunnel Boot Storage & Pole Storage
4.5 x 2.5M Water Proof Awning
16oz Fully Enclosed Annexe
Full Security Mesh Front Door
Internal Sink & Multi-burner Stovetop/Oven
with Rangehood
External Pull-out Kitchen
Bug Repellent & Interchangeable Lights
Internal Fridge
80L External Arctic Fridge
Living Area Cupboards & Storage
Rock sliders
Series 3 Gibb 16 Couples Offroad Hybrid Caravan
SPECIFICATIONS
Austrack Campers GIBB 16C Series 3
FLOOR PLAN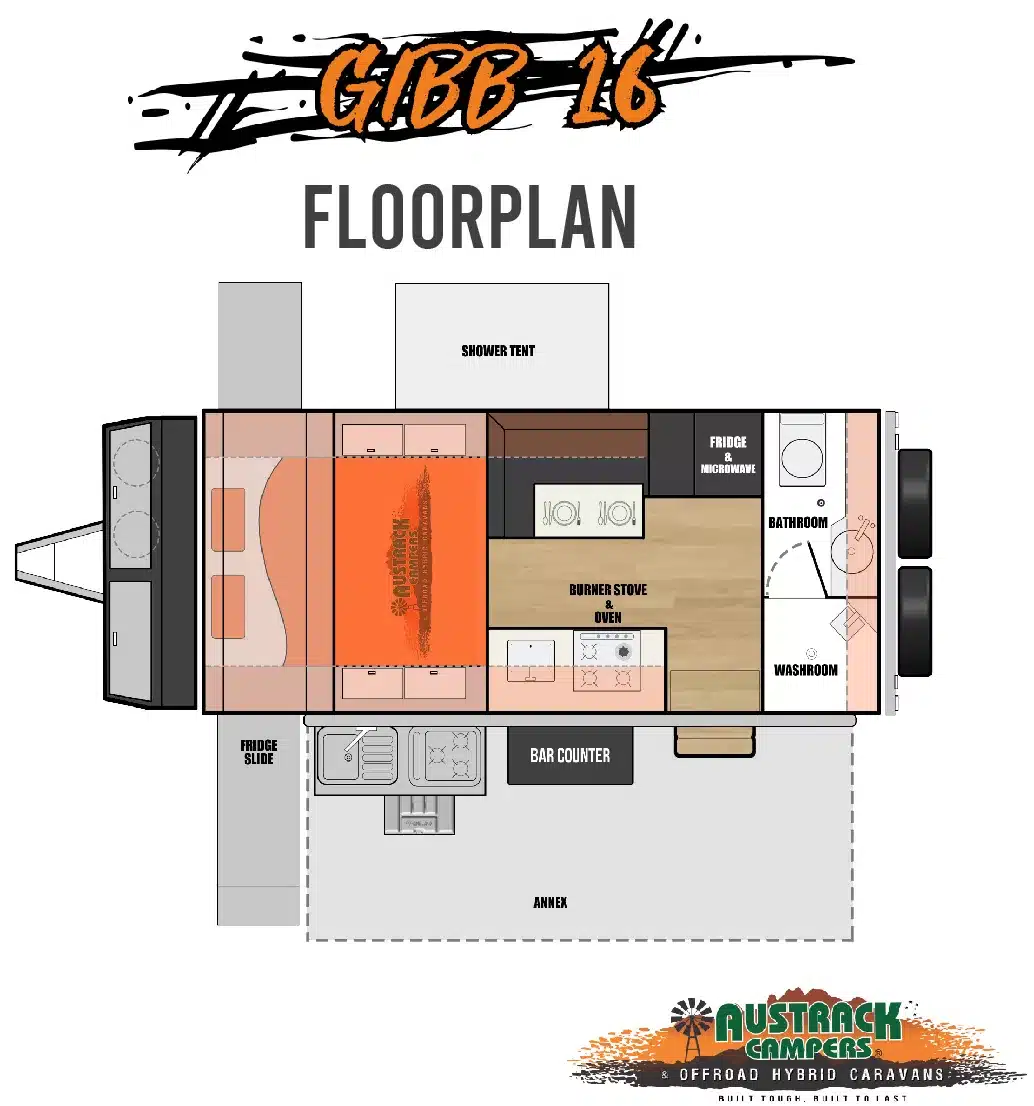 DOWNLOAD FLOORPLAN
VIDEOS
Coming soon!
Austrack Tanami REDARC inverter
Austrack Tanami REDARC Manager30
REDARC INVERTER

REDARC 2000W 12V PURE SINE WAVE INVERTER
REDARC's 2000W Pure Sine Wave inverter makes it possible to plug in anywhere in Australia and get the type of 240V power you get at home. Using a Pure Sine Wave output, the 2000W inverter will ensure appliances run smoothly and efficiently, producing less heat and noise. Now slimmer and lighter, the REDARC 2000W inverter has a wider input voltage in both 12V and 24V models, and works comfortably even in Australia's harsh conditions. Run the same devices as the 1500W model plus microwaves with a 2000W REDARC Pure Sine Wave Inverter. The 2000W inverter features multiple levels of protection, including overload, short circuit and over-temperature and load controlled cooling fan, which is engaged when power consumption reaches a certain level.
With the REDARC 2000W inverter you can take all the comforts of home whilst you travel, without fear of damaging your appliances.
In addition, REDARC has an optional Remote on/off switch (REMOTE-RS), sold separately that allows the control of the inverter from a remote. It is designed so that the inverter can be installed out of sight and allows the control of the inverter from a more convenient location such as the inside of your caravan or campervan. The remote switch can be flush-mounted up to 8 metres away from the inverter. 
Benefits
Appliances will run smoother and more efficiently, producing less heat and noise
Designed to run any 240 volt equipment
Take all the comforts of home whilst you travel
AS/NZS 4763 Compliant
Features
Pure Sine Wave output
Input and output are fully isolated
Multiple levels of protection; overload, short circuit and over temperature and load-controlled cooling fan
DOWNLOAD REDARC BROCHURE
Austrack Campers REDARC inverter
REDARC MANAGER30

REDARC MANAGER30
The next generation Manager30 S3 model is the complete battery management system for charging auxiliary batteries used in recreational automotive and marine applications. The dual battery system incorporates AC, DC and solar inputs to achieve the best charge for an auxiliary battery.
Developed with ease of installation in mind, The Manager30 is compatible with all vehicles and alternator systems including variable voltage alternators.
Whether you're charging Lead Acid, Gel, Calcium, AGM or Lithium Iron Phosphate batteries, The Manager30 represents a complete DC to DC charging and maintenance solution. If you're charging one auxiliary battery or more, The Manager30 will ensure they're always fully charged, providing peace of mind when battery charge provides the power source for the comforts of home whilst travelling around Australia.
The Manager30 operates like 6 separate products, it charges an auxiliary battery from the vehicle while on the move, it's a 240 volt charger, a solar regulator, a battery isolator, a load disconnect controller, all with a remote battery monitor, making it market leading.
Charging lithium batteries
Lithium batteries have improved storage capacity relative to size and weight. They do however require specific charging conditions in order to operate correctly and the battery itself must have an in-built cell management system. REDARC have designed a charging profile within The Manager30 to complement these in-built systems.
Green power priority
The Manager30 is designed to charge an auxiliary battery from multiple sources simultaneously. If 12 volt solar power is available, solar power will be used before topping up the output charging current from another source mains (if available) or DC vehicle power when on the move.
MPPT solar regulator
The built-in Maximum Power Point Tracking (MPPT) solar regulator allows The Manager30 to deliver the maximum amount of power from portable solar panels, even during low light conditions.
Remote monitor
Designed to show you auxiliary battery information and charge status. You can customise how your battery is charged and monitor where the charge is coming from. A user-friendly, graphical display monitor lets you know what's going on, keeping you in control at all times.
Features
Multi Stage AC-DC Battery Charger
Multi Stage DC to DC Charger
Maximum Power Point Tracking Solar Regulator
Battery Monitor
Dual Battery Isolator
Load Disconnect Controller
Super quiet operation
Charges AGM, Gel, Calcium content, VRLA, Standard Lead Acid and Lithium (LiFePO4) batteries
Tested to mains power safety standards in Australia
DOWNLOAD REDARC BROCHURE
Austrack Tanami REDARC Manager30
Disclaimers
Austrack Campers reserves the right to modify an advertised component (eg. air conditioning unit, stove, inverter) with an item of similar value and quality, due to supply and availability.  In order to fulfill orders, all Austrack Campers are subject to change at Austrack's discretion. Errors and omissions excepted.
FINANCE
*Conditions, fees and charges apply. Rate subject to change without notice. * Your actual interest rate will be based on a number of factors, including the type and age of the asset you are seeking to purchase; the information you provide during your application and the term of the loan. This rate may be different from our lowest advertised rates.
The Comparison Rate is calculated on a Secured Loan of $50,000 fixed for a term of 5 years, effective 17/07/2023 and subject to change. The Comparison Rate is true only for the examples given and may not include all fees and charges. Different terms, fees or other loan amounts may result in a different comparison rate.
WARNING: This comparison rate applies only to examples given. Different amounts and terms will result in different comparison rates. Costs such as redraw or early repayment fees and cost savings such as fee waivers are not included in the comparison rate, but may influence the cost of the loan. Finance is subject to lenders lending criteria. Assistance provided by AAA Finance and Insurance Australian Credit Licence 422959.
NEED FINANCE?
Need Finance? The team at Austrack Finance can arrange the best finance package to suit your needs and get you on the road in no time.