Australians love to go out and have fun. They are adventurous by nature and love to explore the land around them. Be it the ocean, desert, grassland or forest. There is no shortage of places to visit and enjoy throughout the year. While conventional vacationing following the pre-set norms is quite exciting too, a lot of people are going out and doing it a bit differently. They are taking things into their own hands and finding their way around the country.
While some people do that through backpacking, many are turning to camper trailers in Caboolture. It is one of the most convenient ways in this town to have a great holiday without going through unnecessary hassles. Camper trailers have become a valuable investment that can help you have the time of your life on many of your future holidays.
What You Can Do With A Camper Trailer in Caboolture
Caboolture has become a hotspot for vacationers. It offers so many great options that you can visit it several times and yet find a scenic location you would feel you must see. Sparkling beaches, ethereal mountains, the cosy countryside – it is a nature lover's paradise. Having a camper trailer in Caboolture will allow you to explore these beautiful locations at your own rhythm and pace. Moreover, you will have everything with you, including a place to stay, which makes it possible to have the vacation of your dreams without burning a hole in your wallet.
Caboolture also has many designated spots if you are more into conventional camping. Places like Lakeview in Beachmere, The Rustic Resort in Wamuran, Kookaburra Hills, Hope Valley, the Tiz Tam Fam Nature Reserve, Logan Park Farm in Tamrookum, the Adavale Farm, Oz Sky Ranch, the Sarabah Camping site, the Chookhouse Farmstay, Noosa Avalon and the Nyalar Mirunganah Nature Refuge are just some of the scenic locations you can take your camper to. Nothing feels more serene than just enjoying your hard-earned leisure in the midst of nature and letting the bindings of your busy life go just for a while. With a camper trailer as your trusted companion, there's no place beyond your scope.
Should I Get A Camper Trailer?
It is true that camper trailers are quite an investment and not everybody would be ready to shell out that kind of money. However, we can assure you that if you are able to buy one, your vacations would become so much more convenient and affordable. You will have your own vehicle to take you to places. And once you reach the location, you won't have to worry about finding a hotel or lodge – the camper trailer has all the provisions for a comfortable stay.
Moreover, since you will have the space to carry all the required stuff with you, you won't have to spend on buying all the miscellaneous things that are impossible to carry with you on a conventional vacation. If you get a camper with cooking provisions too, you won't have to worry any longer about finding good food on the vacation. In fact, you can customise your camper or get a pre-equipped one such that the things you struggle with most on a holiday are all taken care of within the walls of the camper. There is absolutely no limit to what you can accomplish with a good, sturdy, well-furnished camper trailer in Caboolture.
Get the Full Fun of Camping with Austrack Camper Trailers
Just as a well-built camper trailer can make your life infinitely easier, a poor one can completely ruin your vacation. That is why every Austrack Camper is built to be the best version of itself, keeping in mind the requirements and demands of the people. With an Austrack camper trailer in Caboolture, no vacation spot is out of your reach.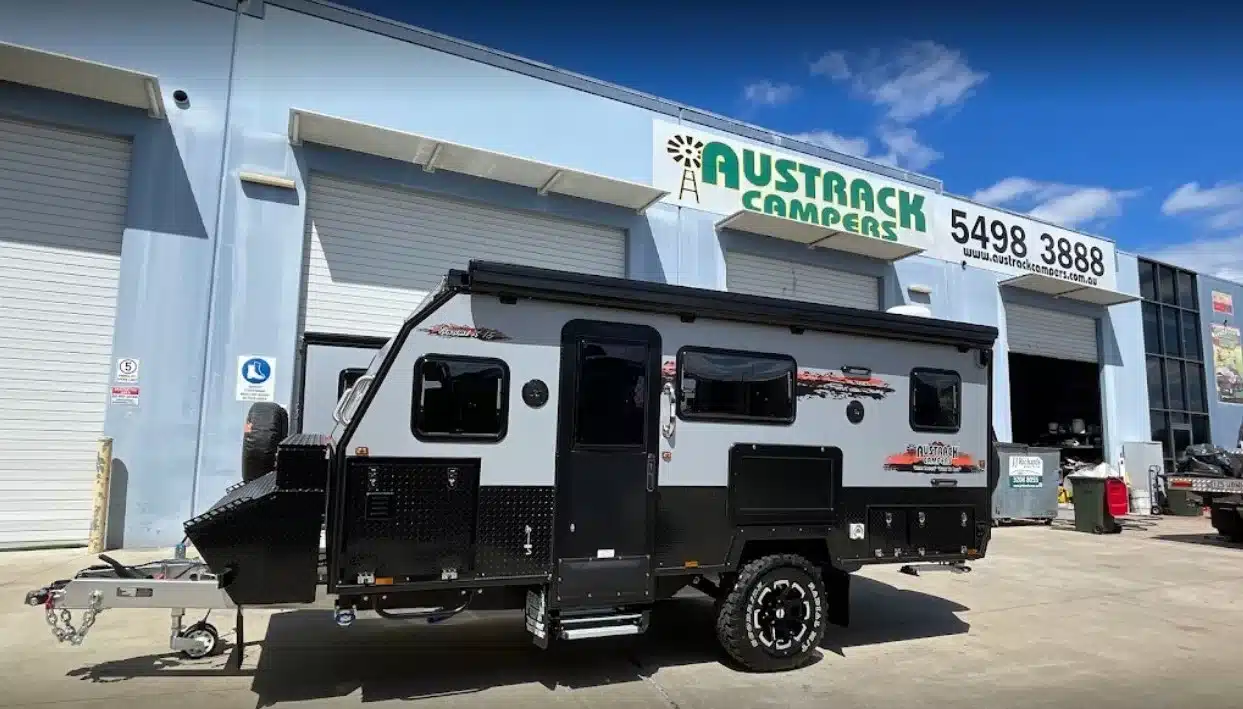 We are not just experts in making the usual camper trailers; we are the proud manufacturers of some of the most durable and functional off-road campers in Caboolture too. Built for the adrenaline junkie, you can take these campers through the roughest tracks and terrain without any damage. Even the harshest Australian weather can't put a scratch on them.
If caravans are more your style, then we have got your back too. Our hybrid campers are the best example of "the best of both worlds". They are built to include the benefits of both camper trailers and caravans, being compact and convenient like the former while offering sufficient space and facilities like the latter. If you get one of our hybrid campers in Caboolture, any kind of vacation would become a breeze to organise.
Of course, it is important to consider that a camper trailer is not in everyone's budget. But that's alright because we have something awesome for you too. We have some of the best rooftop tents in Caboolture that are highly pocket-friendly and convenient. All you have to do is park the car in the right spot, set up the tent and you are good to go.
What Makes Us Special
The thing about Austrack Campers is that all our camper trailers are made with the needs of the people in mind. We put ourselves in your shoes to understand what our customers expect from our camper trailers. Having been in the business for over 14 years, we have become experts in this respect. We are always innovating our old, new and upcoming models to offer the best there is to the people.
With the motto "Built Tough, Built to Last" in mind, we manufacture all our camper trailers with materials of the best quality available in the market. We have tested each vehicle in the most extreme Australian weather conditions and camp routes and sites to ensure that they will deliver the expected results when you use them. In fact, our Savannah X was nominated to be a finalist in the Camper Trailer of the Year 2018 awards.
Visit Our Showroom
If are considering buying a camper trailer in Caboolture, pop in at any of our three showrooms in Queensland and take your pick from our finest range. You can also contact us directly by calling or emailing. Make your vacations extra special this time with one of our premium camper trailers!
For any inquiries please fill the form below